Epilator Threading Facial Hair Remover removal Beauty Epilator Tool Eyebrow 129
Epilator Threading Facial Hair Remover removal Beauty Epilator Tool Eyebrow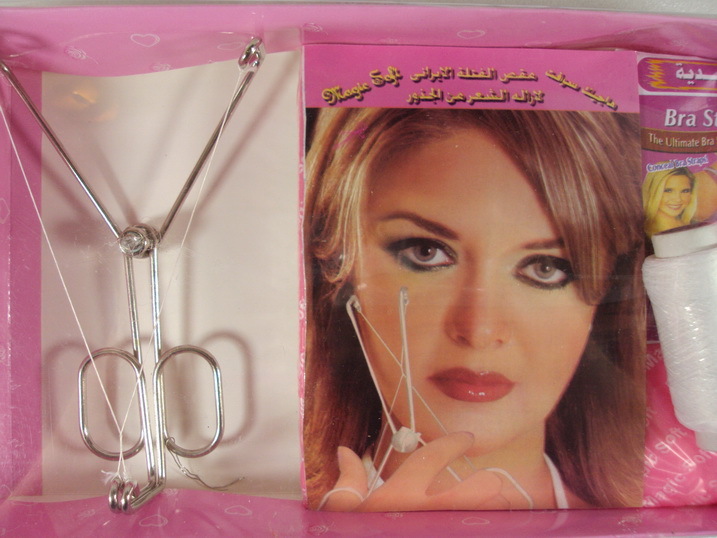 IMPORTANT SHIPPING NOTES:

1-We ship all packages through the Egypt post ( registered air mail) with tracking number
2- you can track your package after 15 days from the shipping days ( tracking number will not be traceable until the package reaches your country and added your post system

example : we send the package to the Egypt post , then the Egypt post put in on flight then deliver it to the usps then usps add it to usps.com ( this process usually takes about 15 days )

3- Please keep attention to your mail box because if the post man didn't find you in your address he will leave you a notice , and if you didn't contact your post office for 14 days they will send the item back to us , and then you will have to pay for reshipping

4-for USA buyers please use usps.com after 15 days from the shipping date

for Canada buyers please use canadapost.com after 15 days from the shipping date

for all other countries please use 17track.net after 15 days from the shipping date
. .ITEM DESCRIPTION : Epilator Threading Facial Hair Remover Beauty Tool

!!!! NO MORE NEED FOR THE BEAUTY SALOONS
please see the link video to see how it works
http://www.youtube.com/watch?v=FPuA-qJheHg&feature=player_embedded


An Egyptian traditional way for beauty care,this tool removes the hair from its roots in a very fast way more than the tweezers and keeps the skin very soft and clean.

* This tool is very faster many times than the tweezers as this tool can remove full row of hair each time while the tweezers can only remove one single hair each time.
*Very simple way to use .
* Can be also used to shape your eyebrow.
HANDCRAFTED IN EGYPT!!!
How to install the thread in the Threading Tool:

1. Have the thread to go through the hook diagonally opposite to the hook above as shown in photo 3 above.
2. Press and release of the threading tool makes the twisting necessary to remove the hair.
Best results is to remove hair opposite the direction of hair growth.
3. Twist the thread with the other thread diagonally about 6 times as shown in photo 5 above.
4. You will need a suitable thread or dental floss about 15" length (38 cm).
5. Tie one end of the thread with the hook underneath any of the oval shape handles of the threading tool as shown in photo 2 above.
6. Make the thread go through the adjacent hook as shown in photo 4 above.
7. Tie the other end of the thread after tension with the last hook as shown in photo 6 above.
OUR ITEMS ARE 100% HANDMADE BY HIGHLY SKILLFUL CRAFTSMEN IN EGYPT!!
This is one gorgeous piece!
A great find for the Egyptian treasure collector
Package also includes threading thread spool
Condition: 100% NEW EGYPTIAN HANDMADE WITH HIGH QUALITY
Quantity : ONE SET
Color: SEE PICTURE
Weight (Approx.) : 160 gm each SET
Material: STAIN STEEL ( DURABLE & LONG LASTING MATERIAL)
Size (Approx.) :