THIS IS A REAL PIECE OF ORIGINAL HAND PAINTED AND HAND MADE EGYPTIAN PAPYRUS ,All OUR PAPYRUS ARE HAND COLORED & PAINTED WITH OIL PAINTINGS,GOUACHE OR WATER COLORS.Please note that there is a noticeable difference between the our original hand painte
ANCIENT BASTET ORIGINAL HAND PAINTED PAPYRUS 12"x16" (30x40 CM)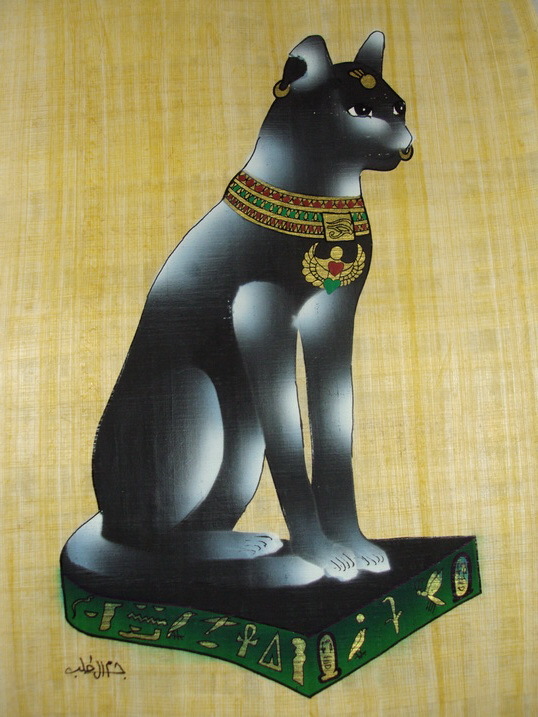 IMPORTANT NOTICE : For all papyrus buyers please allow 30 days for shipping time as now the Egyptian customs must inspect all papyrus with the cooperation with the archaeological ministry.
NOTE TO ALL BUYERS: Negative feedback will not fix your damaged item or return your money ,only communications can do , please communicate with us before your feedback.

EVERY EXTRA PAPYRUS SHEET IS ELIGIBLE FOR FREE SHIPPING POLICY

ITEM DESCRIPTION : EGYPTIAN ORIGINAL HAND PAINTED PAPYRUS 12"x16" (30x40cm)
( ANCIENT PHARAOH BASTET )
FREE SHIPPING POLICY FOR ANY EXTRA PAPYRUS (SHEETS)
* BUY ONE PIECE AND GET FREE SHIPPING (NO FEES) FOR ALL OTHER QUANTITY FROM ANY SIZE FROM OUR STORE.
(PAY ONCE FOR SHIPPING WHEN YOU BUY MORE THAN ONE SHEET).
*(THIS OFFER ONLY FOR SINGLE SHEET LISTING AND NOT FOR WHOLESALE LISTINGS)


COMBINED SHIPPING: Buyers MUST wait for us to fix for them the invoice for combined shipping rate before payment . We are unable to provide any discounts after your direct payment for your items.
IMPORTANT NOTE:
THIS IS A REAL PIECE OF ORIGINAL HAND PAINTED AND HAND MADE EGYPTIAN PAPYRUS ,All OUR PAPYRUS ARE HAND COLORED & PAINTED WITH OIL PAINTINGS,GOUACHE OR WATER COLORS.Please note that there is a noticeable difference between the our original hand painted papyrus and the those which are printed using digital printers or offset .you will notice a big difference in colors and quality . this is a really hand painted papyrus.

signed with professional artists
you will receive an authentication certificate with many languages
HANDCRAFTED IN EGYPT!!!
OUR ITEMS ARE 100% HANDMADE BY HIGHLY SKILLFUL CRAFTSMEN IN EGYPT!!
This is one gorgeous piece!
A great find for the Egyptian treasure collector
Condition:100% new Egyptian handmade & hand painted papyrus with high quality
Quantity : 1pcs
Color: see pictures
Weight (Approx.) :
Material: 100% Egyptian handmade papyrus paper
Size (Approx.) : 16"x24" (40x60cm)